Kilmacurragh: Sourced in the Wild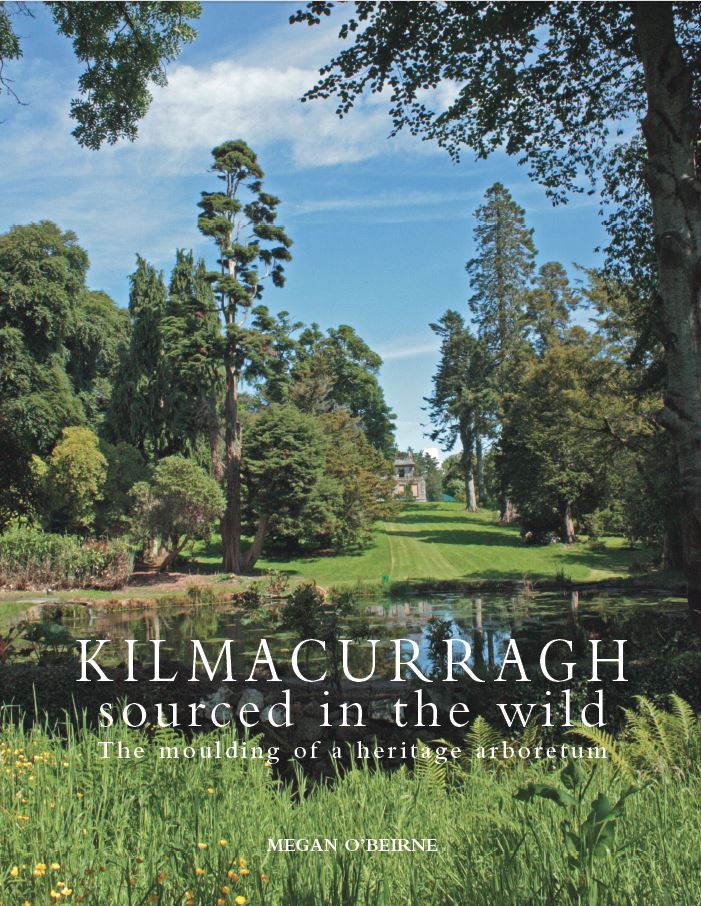 Kilmacurragh: sourced in the wild; the moulding of a heritage arboretum.
By Megan O'Beirne. Published by Systems Publishing, March 2015

"I am thrilled that Megan O'Beirne has created a book beautifully illustrated with hundreds of her excellent photographs. It is a delight to read, so full of the stories that will make this great garden come alive for visitors. This book will open the eyes of many to this national treasure." - Peter Wyse Jackson, President, Missouri Botanical Garden, St Louis, and former Director of the National Botanic Gardens, Glasnevin.

You Never Walk Alone Among Trees, especially not in Kilmacurragh Arboretum and Botanic gardens, Kilbride, Co. Wicklow. Besides the powerful presences of champion trees, every dip and incline in the garden is suffused with a sense of history, from medieval times through those of the Anglo-Irish Acton dynasty to the present time. In this 'garden like romance itself', every projecting beam, twisted branch, angled trunk and grassed-over pathway speaks of a complex and dramatic past.

During their continuous tenure, successive generations of Actons, passionate about trees, planted a wide variety of both native and exotic trees of particular heritage and conservation importance today. The prized collections of conifers and the famous Himalayan tree rhododendrons sourced in the wild by sir Joseph Hooker represent the nucleus of the arboretum.

The political and social context of the evolution of this arboretum was marked since the seventeenth century by a continual national struggle between opposites: wealth and misery, possession and dispossession, deforestation and silviculture, Protestant and Catholic, peace and aggression, power and impotence, hierarchical administration and democratic government.

In 1996, after some decades of neglect, the management of Kilmacurragh Arboretum and gardens was transferred to the National Botanic Gardens (NBG), Dublin, of which it is now a 'sister garden'. Plant acquisitions made during recent worldwide expeditions organised by the NBG have made a new style of gardening possible in Kilmacurragh, integrating the charm of Thomas Acton's 'wild garden' with a modern botanic focus. The continued flourishing of this unique arboretum exemplifies the best aspects of the heritage of a vanished age.

194 pages, with 250 high-quality colour photographs. Hardback ISBN: 978-1905404-21-6 RRP €30

Megan O'Beirne

Writer and visual artist Megan O'Beirne first visited Kilmacurragh Arboretum in 2009. she was so enchanted that she resolved to fill a vacuum, to make an art book comprising text and photographs which would capture the spirit of this precious and little-known national treasure and help to publicise it. This book, part-funded by Artlinks, is the fruit of her research and countless photographic sessions. O'Beirne has written for Sunday Miscellany at radio Éireann and is a regular contributor of articles and photographs to Crann, Ireland's voluntary tree organisation.

As well as writing, O'Beirne's practice includes painting, photography and print. She has exhibited widely and her work is represented in national (OPW) and county (Wexford) collections. She has been a recipient of Arts Council bursaries, and artist residencies include Banff, Canada, and Reykjavik, Iceland.

Trade enquiries: Systems Publishing. Villa Alba, Tara Hill, Gorey, info _at_ systemspublishing com

Any errata noticed should be reported to Systems Publishing Ltd.
Page 23: picture captioned 'Rhododendron huianum' should be 'Rhododendron hylaeum'
Page 114: picture captioned 'Lilium henryi' should be 'Lilium leichtlinii'
Page 134: picture captioned 'Rhododendron roylei' should be 'Rhododendron thomsonii'
Page 154: picture captioned 'Aconitum carmichaelii' should be 'Aquilegea'
Any other minor imprecisions or misspellings will be corrected in a future edition.
Press mentions
Irish Times Dec 5 2015, Michael Viney: "... a splendidly produced exploration of a largely unknown arboretum ... Megan O'Beirne. the book's dedicated author and photographer, traces the Acton family history..."

Irish Examiner Dec 5, 2015, Fiann O'Nuallain picks some Irish gardening books for Christmas. "[Kilmacurragh] is a true Aladdin's cave of botanical treasures and well-illustrated in this lovely book. Open to the public and so worth a visit — go experience, for yourself, just what inspired the author to dedicate five years of her life to producing this work and telling its tale. We can follow the fortunes and misfortunes of the Acton family (who created the gardens) as we might a Downton Abbey-type drama, or we can sink our teeth into the behind-the-scenes stories of how these old demesnes really operated. A fascinating read about a fascinating place."

Irish Country Living in the Farmer's Journal, 28 Nov 2015. Fiann O'Nuallain, the Holistic Gardener, reviews: "Megan O'Beirne's impressive book on Kilmacurragh. Much more than the story of some of Ireland's champion trees ... the story of the place they are nurtured in and the fascinating characters that made Kilmacurragh a world-enviable arboretum and a jewel of Ireland's botanical treasures. It is such a rewarding read, helped by O'Beirne's enchanting and informative storytelling capabilities ... deliciously illustrated .. photographs taken by Megan O'Beirne, a visual artist of repute herself."

Crann, Ireland's tree magazine, Spring/Summer 2015: "It helps, of course, if you are a story-teller. You get excited about aspects of your subject and this enthusiasm is transmitted to the reader. When you're an artist as well, you bring a new dimension to things. Which is why Megan O'Beirne's book on a historical but obscure garden in Co. Wicklow is such a treasure. This writer/artist has produced a scholarly work that is entertaining as well as engrossing, written by a lay person in a specialised world - and all the better for that.[...] This is a highly-recommended book for anyone with an interest in trees, gardens, history, and social history."

Irish Arts Review Summer 2015, Nigel Everett: "Megan O'Beirne's carefully researched study, abundantly illustrated with her own photographs, offers a full historical and horticultural account of the demesne, particularly the long, creative rule of the Acton family, retrospectively apologetic Cromwellians who owned the estate from the 1640s until its sale in 1944."

The Irish Garden magazine May 2015, Mary Davies: "A labour of love, and an attractive exploration of Kilmacurragh"

"Worth a read", Jane Powers, The Sunday Times 5 April 2015

Accountancy Ireland magazine, April 2015, Daisy Downes: "Lavishly illustrated, it contains 250 luscious colour photographs providing incredible detail of Kilmacurragh's plants and trees [...] O'Beirne's book will certainly put you in the mood to explore."

"Ireland's secret garden: In National Tree Week, a new book should ensure that the unique collection of champion trees at Kilmacurragh is about to become better known": Sylvia Thompson, Irish Times 7 March 2015

Wicklow's hidden little gem, Bray People 28 Feb 2015.

Online:
Buyers in Ireland:
Wordwell Books, Dublin.
Kennys.ie, Galway.
Buyers Overseas:
Amazon UK

In store:

Wicklow:
Bridge St. Books, Wicklow Town (Best bookshop 2014 by Irish Times readers )
The Village Bookshop, Greystones
Blessington Book Store (Highly commended SFA Small Business Awards 2014)
Dubray Books Bray

Dublin:
Hodges Figgis, 56 Dawson St., Dublin. (Highly commended by Irish Times readers )
Eason's in multiple stores.
Irish Georgian Society 58 South William Street, Dublin 2.
Alan Hanna's bookshop Rathmines.
The National Botanic Gardens, Glasnevin bookshop.
The National Gallery of Ireland, Clare Street.
Rathfarnham Bookshop
Members of the RDS can obtain it through the RDS Library.

Wexford:
Zozimus Book café, 86 Main St. Gorey, Co. Wexford
The Wexford Book Centre, South Main St. Wexford town

Library purchasers see The Open Books Company Library Services

Trade Enquiries: Systems Publishing, Villa Alba, Tara Hill, Gorey, Co. Wexford, Tel +353 86 835 2233 info _at_ systemspublishing com