| | |
| --- | --- |
| Megan O'Beirne | Article Re Joyce 2004 |
Are you travelling to Ireland to enjoy the Dublinicity of ReJoyce Dublin 2004, the Bloomsday Centenary Festival? Or joining us on the Joyce walks during the June'04 Eighth Annual Joyce School in Trieste (Tarry-Easty)? Or maybe taking a flight to Zurich (Turricum) to research the comprehensive resources of the Zurich James Joyce Foundation? Or perhaps spending a romantic weekend in Paris (Paname) soaking up the Joycean influences?
Megan O'Beirne shares her travel experiences with you. Pictures documenting places where Joyce lived are on the James Joyce photographs page. This article first appeared in Gorey's Link magazine in December 2003. At the bottom of the page we shall be adding links to other events around ReJoyce 2004.
---
James Joyce – an urban genius.
By Megan O'Beirne.
A curious incident occurred at Joyce's burial in Fluntern Cemetery in Zurich on 13th January, 1942. An elderly man, who had been staying in the same guesthouse as Joyce, had tagged along for some thing to do and kept asking who it was they were burying. 'Herr Joyce', the undertaker had said. The stray man asked again and again and was told again. And again. Surely a tragi-comical incident Joyce himself would have savoured as illustrating the bizarre nature of life, of death. Nora, who survived 'her poor Jim' by ten years, and was originally buried in a separate grave, now rests with him in an honorary grave organised by the City of Zurich in 1966. Joyce's son, Giorgio and his second wife are also buried there.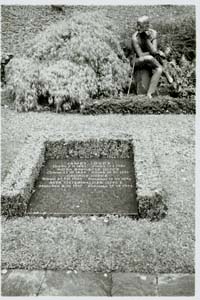 The grave is set among birches and greenery in a quiet corner of this meticulously maintained cemetery. The zoo is close by and it comforted Nora in a childlike way to think of Jim buried within hearing distance of the roars of the lions. Of all the strange, often beautiful sculptures placed on the graves in Fluntern, the American sculptor Milton Hebald's evocative statue of Joyce (inaugurated on Bloomsday, 1966, twenty-five years after his death), has a special grace. Joyce is depicted in characteristic pose, deep in conversation, head tilted, one leg resting on the other knee, cigarette poised, slim cane delicately balanced. The politely worded sign requesting visitors not to walk on the surrounding grass is an indicator of the volume of visitors who come to pay their respects to an artist who used the broken 'heaventalk' of an Irish city to articulate 'all the sorrow and muddle which pertains to life and death.' Given Joyce's lifelong struggle with narrow-mindedness, grinding poverty, chaotic domestic arrangements and threatened blindness one breathes a sigh of relief that at last he can rest with his close family members in a city that reveres him.
Zurich, where Joyce lived for about five years, but mainly 1915-'19, 1940-'41 is a beautiful lakeside city, which is compact and easy to visit for Joyce scholars and enthusiasts. The very active and welcoming James Joyce Foundation in Augustinergasse 9 have produced useful guides to places within walking distance or within easy reach by an excellent tram-system.
Joyce and his family took refuge in Zurich during World War 1, when it was unsafe to stay in Trieste. Italy, where he had taught in the Berlitz Language School, since definitively leaving Ireland in 1904. The Joyces lived in Paris in the inter- war period, returning to Zurich in 1940 when the German army marched on Paris; tragically, he died there a couple of months later at the Red Cross Hospital, 13th January, 1941. That hospital was demolished and is currently a building site, but just opposite it is the University Hospital where there's an installation commemorating Joyce by the Swiss artist Hannes Vogel. 'Dick and Davy' reads the brash neon sign in the medical students' cafeteria named after two of Joyce's medical- student characters. How many of the snacking students there know the origin of the names, one wonders. Through the long windows we saw the curved polished tablets each incised with the same Joycean text from Ulysses, in a different language. The viewer is mirrored in the text – a subtle acknowledgement of Joyce being 'owned' by Everyman, of having lowered the bucket into the deepest reaches of the human psyche. In an adjacent hallway there's a wall-sized satellite- photograph of Zurich, plotting places of Joycean interest in the city and its environs. Nearby, in Universitatstrasse 38, is a plaque marking where Joyce lived; across the street lower down is no. 29 where several chapters of Ulysses were composed. In the Seefeld area close to the lake there are four houses where the Joyce family lived in straitened circumstances.
Two rivers, the Limmat and the Sihl, come together in Zurich's 'meeting of the waters' in a park just behind the main railway-station, the Bahnhof. This was the site chosen by Joyce for the well-known 1938 photograph. Limmat and Sihl -the musical names of these rivers which triggered Joyce's wordplay and together with the name of the main post-office nearby, crop up in Finnegans Wake, that magical river-sound work: -Yssel that the limmat…on the sihl..the sillypost.. Down in the Bellevue area is the Kronenhalle restaurant, which displays portraits of its famous erstwhile clientele, including Joyce. The owners of this restaurant helped Nora in the bad years. Only the delicate wrought-iron Peacock sign remains of the Pfauen Café where Joyce used to meet his great friend, the artist Frank Budgen. On another street off the Bahnhofstrasse, Budgen figures among the nude statues on an imposing facade –"He was short of cash and did some modelling" was the response to the question: "And why did the city fathers want to honour him?"
The Kaufleuten building, used once again as a theatre, reminds us of where Joyce staged plays with the English Players and ran foul of Henry Carr, a minor player who felt underpaid and insulted Joyce's honour. In the ensuing court-case, instigated by the litigious Joyce, half his money was lost. The James Joyce Pub a few doors down from the theatre has a treat in store for Dubliners as it houses the original Jury's Antique Bar, Dame Street. Central to Joycean matters in Zurich is the above-mentioned James Joyce Foundation which is housed in an ancient building containing one of the most comprehensive collections of Joycean books, as well as some Joyce memorabilia: his walking canes – the rough ash one is particularly poignant, and one of the death-masks The devoted staff there collaborate with artists including the Swiss Hannes Vogel in mounting exhibitions; they manage Foundation scholarships for Joyce research- students, hold weekly readings of Ulysses and most importantly, embrace visitors from Ireland with a truly Joycean warmth.
After going into voluntary exile Joyce contemplated Dublin through three different 'lenses': Trieste, in Northern Italy, Zurich in Switzerland and Paris. An apparent paradox central to his work is that whilst fleeing from the stultifying 'nets' of State, Church and family in Ireland, those were the very themes that animated his writings from his short stories Dubliners, his autobiographical Portrait of the Artist, Ulysses and Finnegans Wake.
Dubliners, often raw in technique, takes a sweeping look at those urban themes characteristic of Joyce's Dublin, just before World War 1 and the Insurrection of 1916: These themes are interwoven with Joyce's more contemporary experiences as a young man, in exile, in a far from ideal domestic set-up and trying to reconcile duty with the need for artistic expression. The lives of petty clerks driven to drink and domestic violence (who could forget – O pa! he cried. Don't beat me, pa!…And I'll …I'll say a Hail Mary for you….I'll say a Hail Mary for you, pa, if you don't beat me…I'll say a Hail Mary…. – the closing lines of "Counterparts"), marital disillusionment, abuse of alcohol, chronic debt, the abandonment of children, the 'vermin-like life' against a backdrop of 'gaunt, spectral mansions' - all experiences which Joyce knew intimately - crop up in this collection of stories which prepared the way for the more psychologically deep, personal A Portrait of the Artist as a Young Man.
Joyce was essentially an urban creature who, from childhood, thrilled to the throb of city life: This description of a shopping trip in "Araby" conveys the feeling: - We walked through the flaring streets, jostled by drunken men and bargaining women, amid the curses of labourers, the shrill litanies of shop-boys who stood on guard by the barrels of pigs' cheeks, the nasal chanting of street-singers….These noises converged in a single sensation of life for me. Joyce was to experience the same heady sensation though in more exotic surroundings, in pre World War 1 Trieste and in Zurich which was a refuge for a large cosmopolitan group of expatriates during both major wars in the last century. Both Trieste and Zurich to-day are more staid and ethnically homogeneous than in Joyce's time, though political and economic migration impinges there too.
Joyce lived in Trieste or Tarry-Easty as he called it in Finnegans Wake, from 1904-1920 with a break of four years 1915-1919 during the Great War when he lived in Zurich. With the decline of Venice in the 18th Century, Trieste became one of the most important ports in the Austro-Hungarian Empire, and remained an imperial city up until the outbreak of World War 1 in 1914.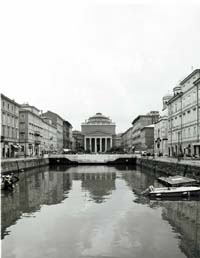 To-day, one can still enjoy the stunning coastal views, the spacious squares, the palaces, churches and synagogues, the fountains, the Canal Grande so familiar to Joyce; the building of the Berlitz school where Joyce taught is still there as are the many palazzi where he and his family occupied tiny apartments usually on the topmost floors and so often were threatened with eviction when rents went unpaid. The family history in Dublin repeated itself relentlessly.
Trieste was a cosmopolitan city comprising Italian, Slav and Austrian communities many of whom were Jewish. This rich social mix stimulated Joyce's insatiable curiosity. As a gifted linguist this babel of languages fed his musical ear and influenced his writings especially Ulysses and Finnegans Wake. Many of his private pupils were Jewish and through them he was able to gather the material necessary to conjure his Dublin-Jewish character in Ulysses, Leopold Bloom. Equally, they equipped him to make questions concerning European Jewry such as exile, and dispossession, assimilation, Zionism, anti-semitism and xenophobia central to Ulysses. Joyce saw links connecting the Irish and the Jews, sharing as they do a heritage of dispossession and an obsession with the past
Although he quickly established himself as a talented tutor/lecturer much in demand for private lessons, he was not well paid and his frequent drinking binges or other improvident purchases meant he and Nora were always in debt. He cadged money where he could from his boss, pupils and friends without ever feeling demeaned as if his genius made such matters mere tiresome mundanities. When, later in his career, in Zurich and Paris, admirers of his work made him generous allowances, he squandered money as if recklessness was a condition he needed to function artistically. The longsuffering Nora had to take in washing to provide for her family and later suffer the snubs of Triestine society who attended her husband's classes. During the Triestine years, Joyce lived in penury, worked and played hard, yet wrote Dubliners (published 1914) and A Portrait of the Artist as a Young Man (1916) and began his research for Ulysses. Here, too he came under influences, such as the Futurist movement, which in part accounted for his departure from traditional syntax and punctuation This bold, exciting move has made Joyce's masterpiece, Ulysses the most important (if also the most unread) Irish novel in English, according to The Irish Times recent poll.
Returning to Trieste after the war, Joyce missed its distinctive pre-war character and decided to move to Paris where the cultural climate favoured the publication of Ulysses and the future development of his work. Though living in Paris from 1920 to 1941, Joyce continued to remember Trieste as his 'second country', and to use the Triestine dialect in the family because of its immediacy and onomatopoeic appeal. It features prominently in Finnegans Wake, Joyce's major Parisian work.
What amazes the Irish visitor in pursuit of Joyce in Paris is the fact that none of his places of residence bear a commemorative plaque to him. Plaques in honour of other lesser writers who lived in the same building, yes, but not to Joyce (Cultural Dept. of Foreign Affairs, please note). In Trieste, by contrast, the Municipal authorities have erected no fewer than forty-five plaques marking key Joycean places. There is a virtual walk through Joyce's Trieste at the University of Trieste web site based on Prof. Renzo Crivelli's book James Joyce: Triestine Itineraries.
Two women, other than Nora, played a dominant role in Joyce's career at this time, namely, Sylvia Beach who published Ulysses in 1922, (parts of it had already appeared in serial form in reviews) and Miss Harriet Weaver, his secret patron and later his staunch friend. Joyce at last had enough money to live comfortably, as his addresses testify. His acknowledged genius and charisma attracted the faithful and the famous to him. However, his quasi blindness, requiring many surgical interventions, his daughter Lucia's psychological ill health and his father's lonely death in Dublin wore him down, filling him with a sense of guilt for past omissions. Despite these difficulties, he stoically and passionately worked on Work in Progress, which subsequently was titled Finnegans Wake (1939). Many of the famous restaurants where he dined are still there: Brasserie Lipp, Les Deux Magots, Dome and La Cloiserie des Lilas.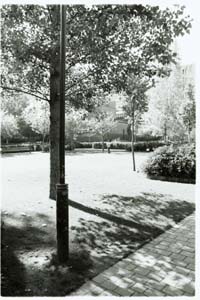 Near the new ultra modern Bibliothèque Nationale, rather appropriately, there is a little square named after Joyce, Square James Joyce. It is a carefully tended garden, specially equipped with swings and other delights for children, enclosing another small organic garden tended by the pupils from the nearby school. Watching young families play there and workers enjoy their packed lunch one could not imagine a more appropriate memorial to our genius in exile whose work and family consumed his heart.
Copyright © 2003 Megan O'Beirne
Contact email:
---
| |
The James Joyce Centre in Dublin is the key resource for Joyceans.
The Bloomsday 100 symposium also has a social program, Paddy Dignam's wake, and more.
ReJoyce Dublin 2004 is the public event. Denny invites ten thousand Dubliners - including us! - and visitors to share a traditional Bloomsday Breakfast to celebrate its creator, James Joyce.
The 'Wandering Rocks, Revolving Doors' collective is staging a city-wide public art event in Dublin between June 10th and the 24th 2004. Based on the 10th episode of James Joyce's Ulysses, it features 19 pieces by 20 internationally based artists in public spaces throughout Dublin. http://www.newgroundcenter.org/WrRd (Creative director: Susan Sakash)
The 8th Annual Trieste Joyce School University of Trieste, Italy, 27 June - 3 July 2004
Also in Italy, University of Roma 3 has an exhibition too.
The Centre Culturel Irlandais in Paris is celebrating Bloomsday with lectures, exhibitions, music, readings, the sights and smells of a garden, the tastes and textures of Ireland, music, and film.
In Brazil, Oficcina Multimedia Group commemorates Bloomsday with the Joyce trilogy: 3 scenic-musical sights, Joyce texts allied to music/sketch /motion. They also have several video/graphical competitions.
In Austria, the Atelier Augarten the Österreichsche Galerie Belvedere centre for contemporary art, is dedicating an exhibition of contemporary art to James Joyce's classic "Ulysses".
Did you know that James & Nora accidentally spent a night in Ljubljiana, Slovenia?
The Croatian Embassy has an exhibition in the Freemason's hall on Joyce's stay in Pula.
In Switzerland, the Zürich James Joyce Foundation has a international onomastic workshop on Joycean Naming, August 1-7.
If you don't see what you want above, click on the link below for your preferred Amazon store to see a complete list of books, music and audio CDs, videos, DVD movies, and other products related to James Joyce.

USA

UK

Germany

France

Canada

Japan
Site maintained by Patrick O'Beirne of Systems Modelling Ltd.
Last updated